Codling moth pheromone trap for fruit trees that effectively catches and kills codling moth. Easy to setup, compact. Trap refills are also available.
Please note: dispatch time currently 7 days.

- Great value including two codling moth lures
- Natural pheromone attracts male codling moth for apple and pear trees
- Bee and beneficial insect-friendly
- Minimal packaging
- Full instructions included

The pack contains everything needed to monitor and trap codling moth through one growing season; 2 sticky traps and 2 pheromone lures each lasting 6 weeks.

Andermatt are members of the International Biocontrol Manufacturers Association and have been leading biological pest control manufacturers since 1988.
When is best to use?
Hang traps from trees when adults are active from May through to September.
The problem: Adult codling moth (Cydia pomonella) lay their eggs on apple trees and pear trees. After hatching, caterpillars burrow into the fruit ruining it. Adults are active from May onwards and fly mostly during warm evenings. Trapping and monitoring adult codling moths allows a user to understand the size of the pest population and, if necessary, take action before caterpillars destroy the fruit.
The product: The pack contains everything needed to monitor and trap codling moth through one growing season. The sticky trap contains a codling moth-specific pheromone lure to attract moths. This pheromone is a natural scent produced by female moths to attract a male mate. Once adult moths are attracted to the trap, they become stuck in the glue on the sticky insert. The pheromone is specific to codling moth, therefore minimising catches of non-target insects. One trap will cover an area of up to 5 average sized trees.
Pesticide free.
Specific to codling moth.
Trap can be reused in future years with additional refill packs.
How to use:
Construct the trap as shown on contained instructions.
Place one pheromone lure in the middle of a sticky insert. Place the sticky insert with the sticky side facing upwards inside the trap.
Hang the trap from a tree branch at head height in a tree the direction the wind normally blows from.
The trap should be checked weekly to monitor codling moth population and, if high numbers of codling moth are trapped remove them to clear space for more to be caught.
After 6 weeks replace both the sticky insert and pheromone lure with the replacement in the pack.
Store
Store in cool dry place, out of direct sunlight.
Shelf life
Pheromone lures should be used within 18 months of purchase. Trap can be used for multiple years. Refill packets containing replacement pheromone lures are available.
Use

Product should be hung from trees when adult moths are active starting from May/June. Traps should be left in trees all season until harvest. Pheromone lure and stick insert should be replaced after 6 weeks.

Important information
Wear gloves when handling pheromone.The pheromone lure should be placed in the basket built into the lid of the trap, not within the clear base of the trap.
Active substance and content
Pheromone lures contain codling moth pheromone.
Product size
Packaging size:

30 x 16 x 2

cm.
Bee and beneficial insect-friendly
Natural pheromone only attracts codling moth, keeping bees and butterflies safe in your garden.
Great value
Two lures and sticky inserts included, with free next day delivery.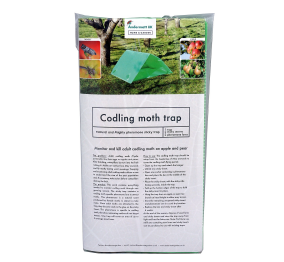 Minimal packaging
We keep all packaging to a minimum. Full instructions are included on the packaging to save paper.
about the product
Codling moth (Cydia pomonella) causes maggot damage in apples and pears (and sometimes walnuts and quinces). The adult moth lays its eggs on the surface of the fruit. After hatching, the larvae (or maggots) burrow into the fruit to feed, ruining it. They later burrow out to pupate back into moths.
- Unfold the trap and attach the hanger
- Unfold one sticky insert, and open one pheromone lure sachet. Place the lure in the middle of one sticky insert
- Place the sticky insert, sticky side upwards, inside the trap
- Fold up the bottom edges of the trap to hold the sticky insert in place
- Hang the trap from an apple or pear tree branch at head height
- Store the remaining lure and insert in a cool, dry place
- Check the trap weekly, removing the moths if necessary to clear space for more to be caught, and replace the lure and insert after 6 weeks
When adult apple fruit moths are flying, May to September.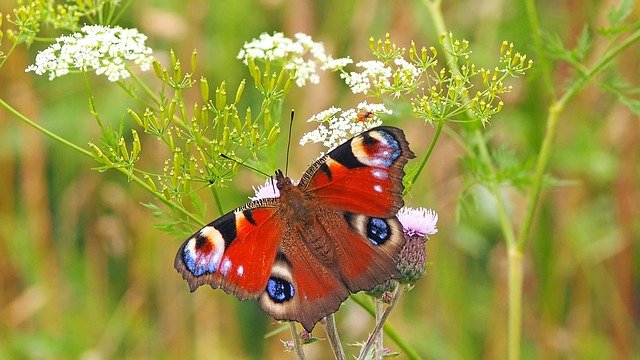 Natural and mighty
Pheromone traps attract pests naturally and specifically, leaving bees and other beneficial insects alone.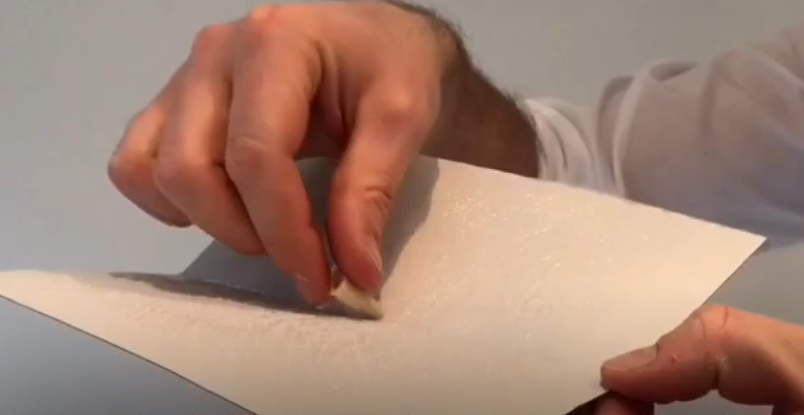 how to use
1. Insert lure
how to use
2. Hang in tree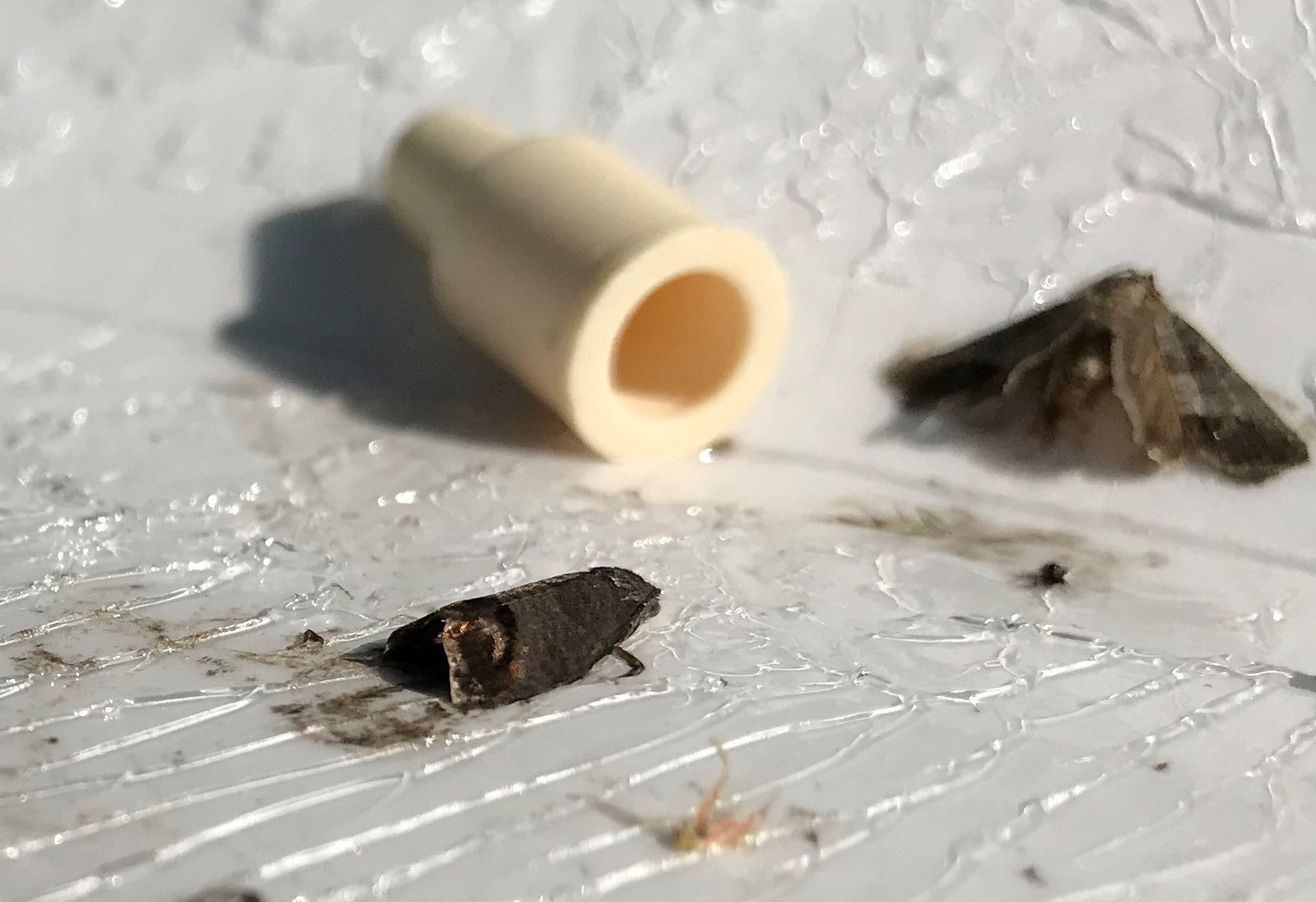 how to use
3. Check for moths