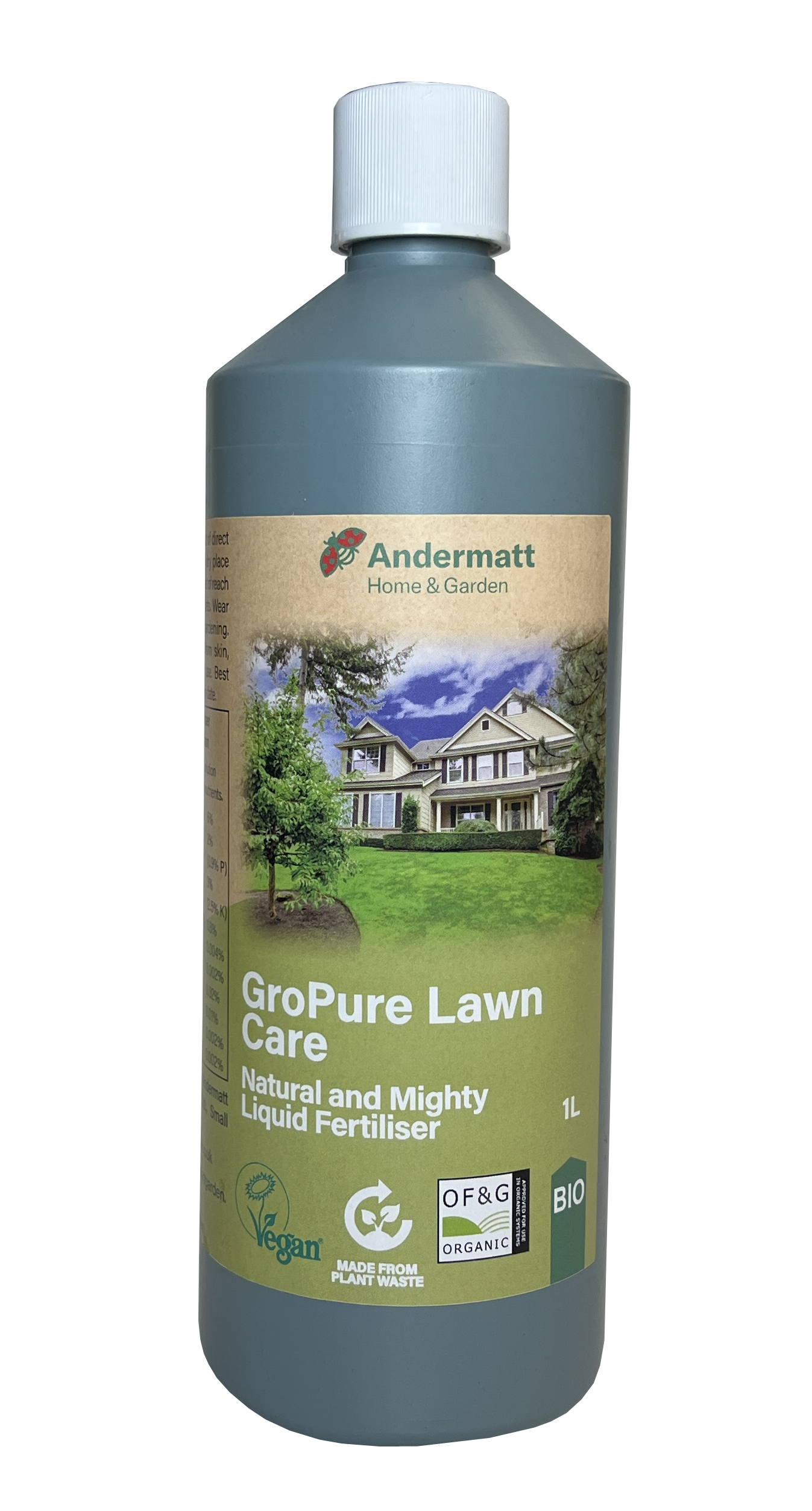 Organic Lawn Care Bundle
Size:
Small - 0.5L bottle of GroPure Lawn Care + MightyNem Chafer Grub Killer (Small, 5 million nematodes for 10 sqm)
Our Organic Lawn Care Bundle features all you need to care for and protect your precious lawn this summer.
In Spring Chafer Grubs will soon start showing the extent of their damage, so get ahead of them with some beneficial nematodes, along with feeding your grass some good lawn-optimised fertiliser to keep it resilient from wear and tear as you start to use it more.
Contains 2 exciting products, all organic:
GroPure Lawn Care fertiliser -  a completely unique liquid organic and vegan plant feed, made from plant waste. The nutrients are cleverly extracted to give the power of a chemical fertiliser. Specifically designed to provide for lawns to support lush green growth.

MightyNem Chafer Grub Killer - Sprayed onto grass infested with chafer beetle larvae, the nematodes within MightyNem Chafer Grub Killer (Heterorhabditis bacteriophora) infect and kill the grubs in the soil. Safe to children, pets and wildlife, these beneficial nematodes offer a natural solution to control an increasingly common pest of garden lawns.
Save 10% by buying the two together as a bundle. Available in small or large. Comes in recycled/recyclable packaging.
The problem: 
With pots limiting the ability of roots to search for food, house plants need a little extra help to thrive and flourish. GroPure House Plants is a complete blend of nutrition, specifically designed for indoor plants.
The product: 
The power of chemical N, P and K, but sourced from plant waste.
A complete blend of Nitrogen (N), Phosphorus (P) and Potassium (K) and micro-nutrients, GroPure House Plants has a high Nitrogen content to help plants produce lush green foliage and Potassium to help your plants produce more vibrant flowers.
How to use: 
Suitable for all house plants grown indoors in containers.
Simply add 10 ml (one cap full) per 2 litres of water into a watering can and apply it to the soil around the base of your plants.
Use GroPure House Plants to feed your plants weekly all year round whenever your plants are actively growing.
When using in winter, use at a lower rate of half a cap per 2 litres.
Approved as suitable for both organic and vegan gardening.
| | |
| --- | --- |
| Store | Store out of direct sunlight in a cool dry place (10-30'C). |
| Shelf life | Best used before expiry date shown on label. |
| Use | Balanced feed suitable for use on any plant. |
| Important information | Not applicable. |
| Warning | Keep out of reach of children and pets. Wash splashes from skin and hands after use. |
| Product size | 1L bottle. |