Oxuvar 5.7% is a concentrated solution to be mixed with sugar for trickle applications to honey bee hives against varroa mite. Trickle applications of Oxuvar 5.7% should be made as a single treatment. Oxuvar 5.7% is available in two pack sizes (275g or 1kg) depending on the number of hives to be treated. Approved for use in the UK by Veterinary medicine Directorate (VMD).
When is best to use?
Winter treatment.
The problem: Varroa mite (Varroa destructor) is an increasing problem in UK honey bee hives. This bee parasite lives on the bees and within the hives feeding on the bees. Attack from varroa mite can weaken bees making them less able to do their job and support the colony, it also makes the bees more susceptible to disease. Hives with significant infestation levels of varroa will produce less honey, be in poorer condition and are less likely to survive through winter. 
The product: Oxuvar 5.7% can be mixed with sugar and used as a trickle application for winter treatment against varroa mite.
Registered for use in UK with VMD
Less bee disturbance than spray application
Longer lasting effect than spray applications
Formulated to give a lower dose of oxalic acid dihydrate better suited to our cooler UK climate
How to use:
Trickle applications of Oxuvar 5.7% should be made during autumn/winter to broodless colonies whilst outdoor temperatures are between +5 and -15°C. Oxuvar 5.7% is prepared into a ready-to-use (just add sugar) 3.5% oxalic acid dihydrate trickling solution.
Pre-warm the oxalic acid dihydrate solution bottle in a water bath (30-35°C).
Remove from the water bath, open the sealed container and add the required amount of sugar (1:1 ratio): Add 275 g sugar to the 275g Oxuvar bottle OR Add 1 kg sugar to the 1 kg Oxuvar bottle 
Close the container and shake until the sugar is dissolved.
Apply the solution whilst it is still lukewarm.
Apply a maximum of 50 ml per hive (3-4 ml per occupied row for small hives [National or WBC] or 5-6 ml per occupied row for larger hives [Danant])
Note: If warmer temperatures are being experienced (above 8°C) a spray application of Oxuvar 5.7% may be more suitable.
| | |
| --- | --- |
| Store | Store below 30°C. Do not refrigerate or freeze. Protect from direct sunlight. Store upright in original container. |
| Shelf life | See use by date on packaging. Product cannot be stored after mixing with sugar. |
| Use | Product should be used as a winter treatment. |
| Important information | Oxuvar 5.7% is registered for use with VMD in the UK for treatment of varroosis on honey bees due to varroa mites Marketing authorisation number: Vm: 36234/4001. Avoid direct contact with product. When handling the product, wear chemical resistant gloves |
| Active substance and content | Oxuvar 5.7% contains 41.0 mg/ml Oxalic acid (equal to 57.4 mg oxalic acid dihydrate) |
| Product size | Packaging size, 275 g: TBC Packaging size, 1 kg: TBC |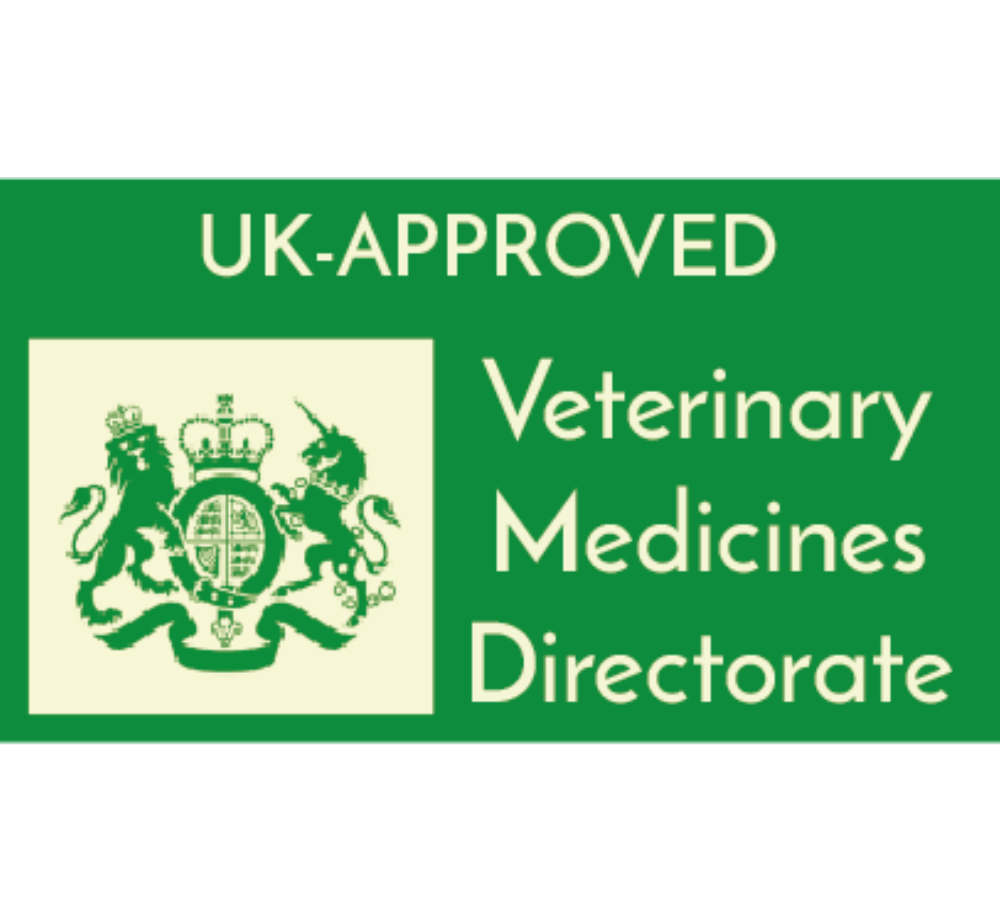 VMD-approved
A VMD-registered treatment for use in the UK.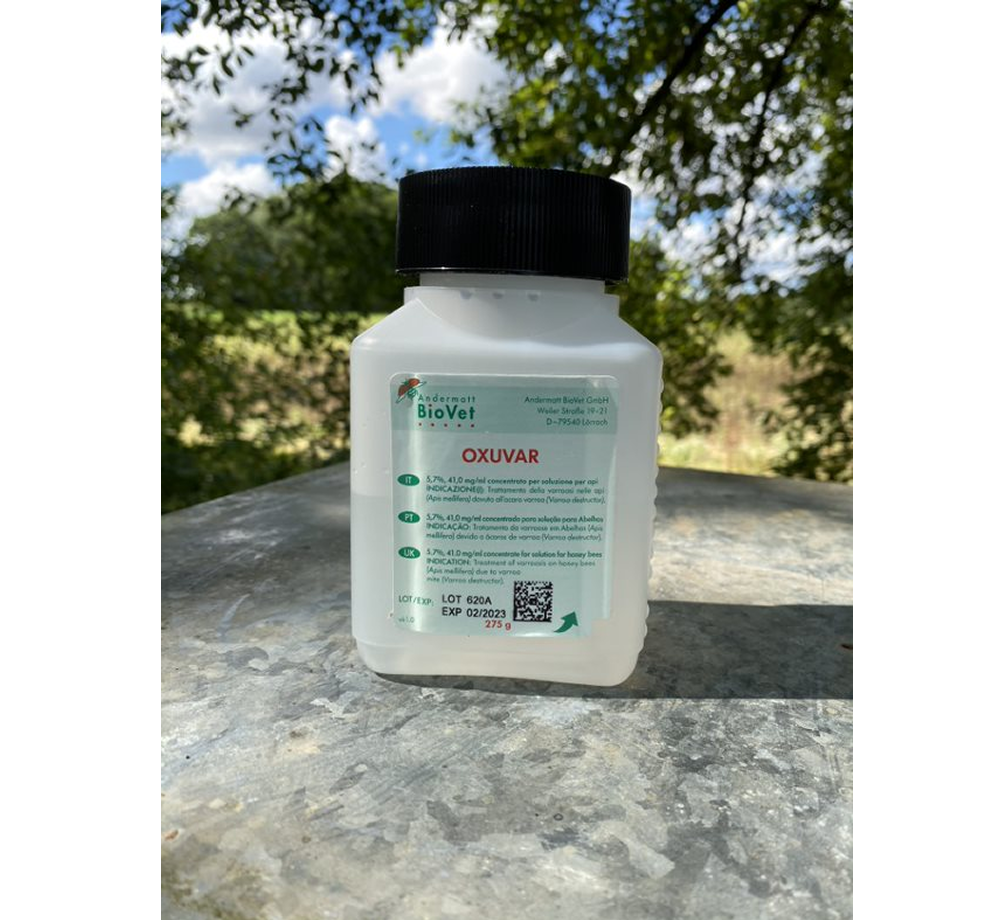 UK-formulated
Formulated to give a lower dose of oxalic acid dihydrate better suited to our cooler UK climate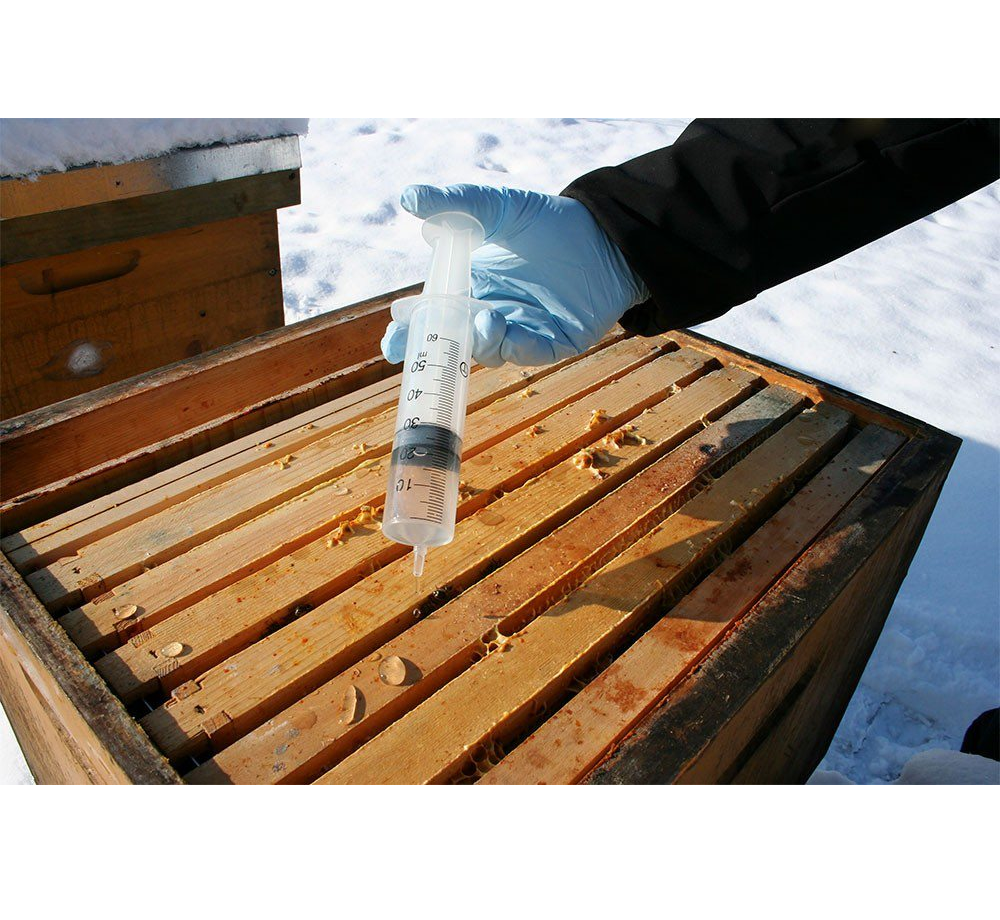 Better than spray application
Longer-lasting and less bee disturbance than spray applications.
about the product
Oxuvar from Andermatt is a versatile product that can be used in the active beekeeping season and in the winter season when the bees are not as active. The best temperature range to apply Oxuvar in the trickle formation is between +5 and -15°C.

In the winter, Oxuvar can be warmed gently in a bowl of water and sugar added with simple a ratio of 1:1, so for example for the 275g bottle of Oxuvar you need to add 275g of sugar. The bottle is then closed and shaken to dissolve the sugar into the solution and the treatment can be applied to the colony.
When trickled onto the bees in the winter, Oxuvar is passed throughout the colony by the bees and the sugar ensures that the bees pass it to every member of the colony. Oxuvar then sticks to the bees and encounters the phoretic mites in the hive, killing them. Therefore, it's best to treat your colonies when they are brood less because the mite population will be solely on the bees and not existing within any sealed brood.
No, we only ship to the UK.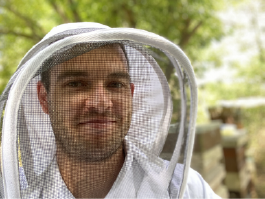 Meet our bee health specialist
As a former bee farmer and with 20 colonies of his own, Dylan brings extensive beekeeping knowledge.
VMD-approved Oxalic acid treatment - trickling or spraying
oxuvar
VMD-approved thymol strips with unique mesh
thymovar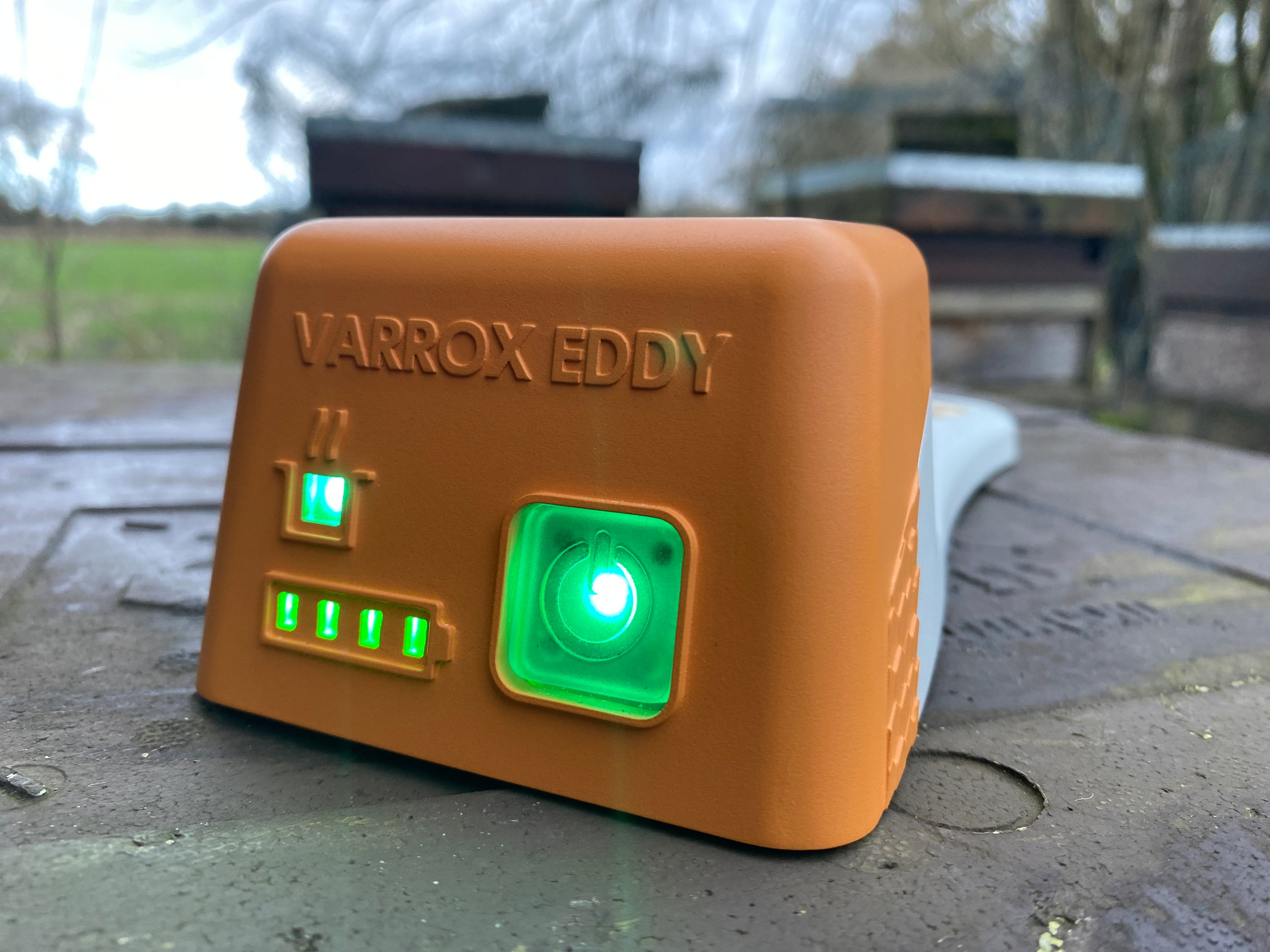 the pioneering new varrox vaporizer
varrox eddy